Yelp: Local Business Back to Normal – Almost
US GDP increased at 6.9% percent in Q4, much better than expected. Yet inflation concerns have overshadowed the strong performance of the economy. Those concerns are reflected in consumer sentiment and language in Yelp reviews, according to the company's 2021 economic impact report. Yet consumer spending was seemingly not impacted by inflation. "Yelp data shows an increase in searches for higher priced businesses in 2021 when compared to pre-pandemic searches (2019)." The review site added that new business openings grew 8% YoY in 2021. The leading growth categories were: restaurants, local services, beauty, hotels/travel and nightlife, in that order. The company said new business growth has almost reached pre-pandemic levels, as consumers returned to many pre-pandemic behaviors in 2021.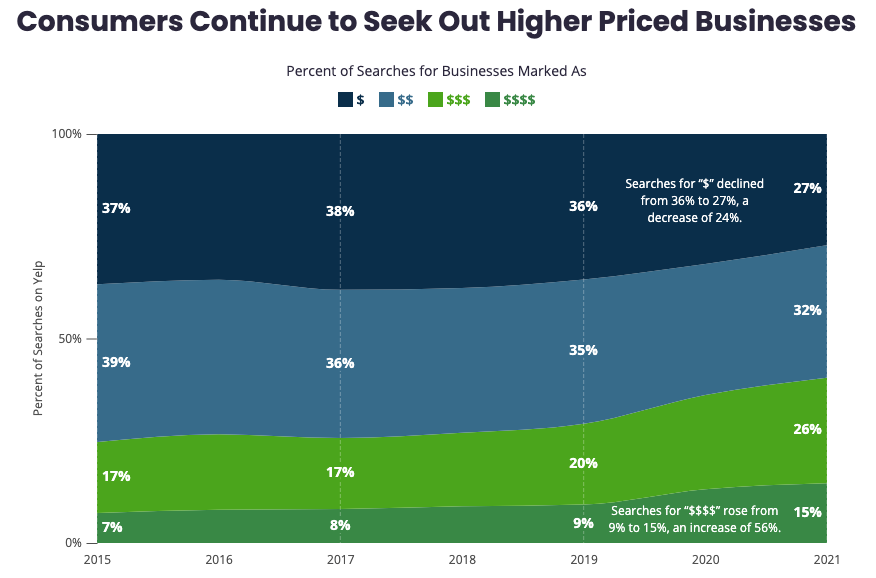 Our take:
The report describes a new normal, where pre-COVID behaviors are back (e.g., in-store shopping, eat-in at restaurants) but with caveats or changes.
For example: even as consumers returned to in-person dining, Yelp data showed "continued high-demand for food delivery services." Omni-dining.
Even as SMBs have suffered the impact of COVID, there have been record numbers of new business starts.
Bloomberg Assails Innovation and Choice Act
Former NYC mayor and presidential candidate Mike Bloomberg came out against the "The American Innovation and Choice Online Act," which was advanced by the Senate Judiciary Committee last week. Among other things, it seeks to prevent platform "self-preferencing." Bloomberg contends that it would "hit American consumers and workers on the nose." He says it fails to understand how the tech industry operates and that it would impose costs, limit choice, reduce innovation and "outlaw some of the most popular services that Americans use every single day." Specifically, Bloomberg says that the Act would force Google to exclude Maps from the top of the SERP and prevent promotion of Amazon Basics. It might also undermine Amazon Prime, he argues. Bloomberg opines companies would need "government permission" to introduce new innovations, with myriad unintended consequences.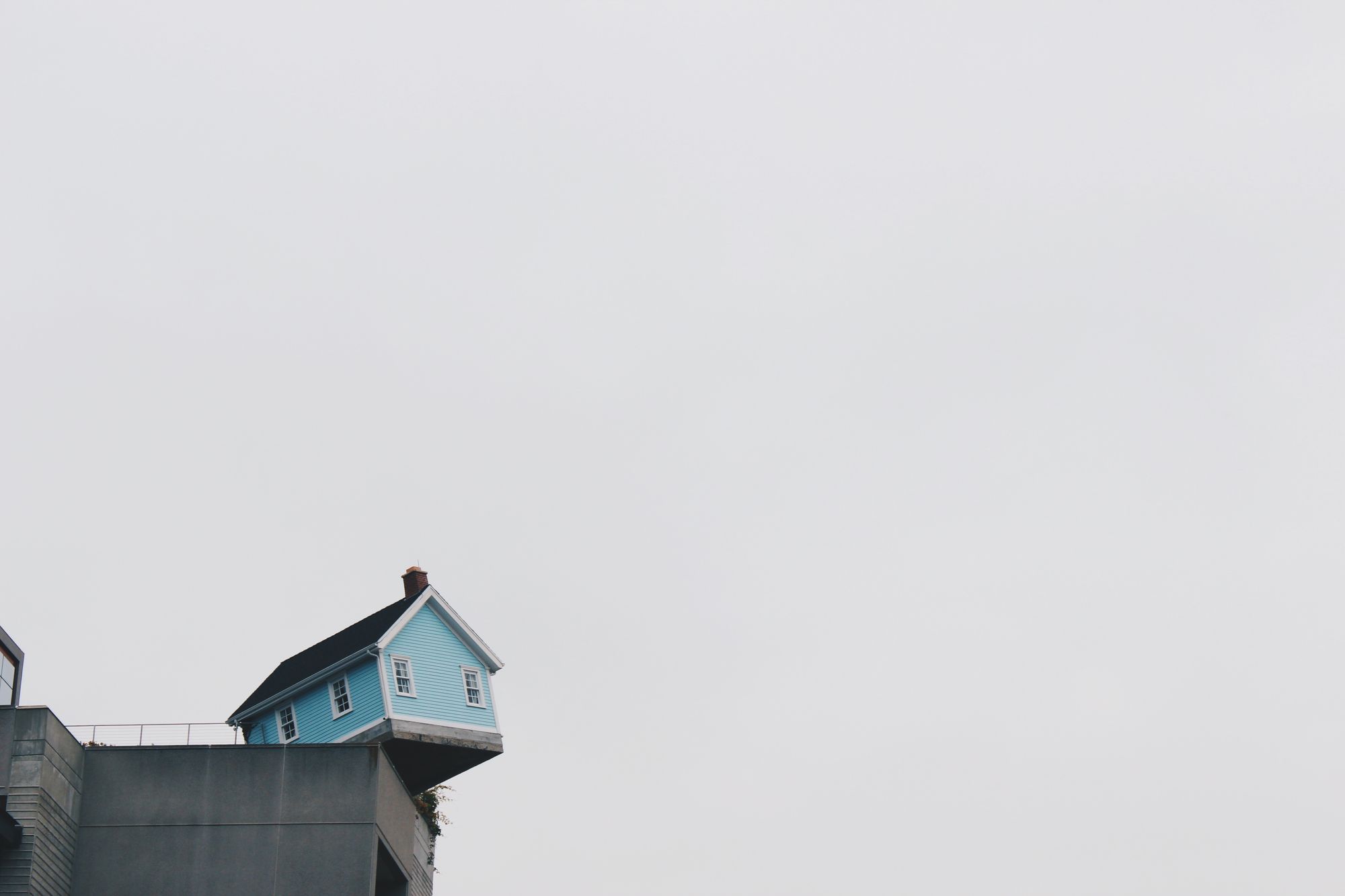 Our take:
Bloomberg is reiterating talking points that Google, Amazon and their surrogates have made in other contexts.
Yet there is truth to some of the Bloomberg critiques. Google Maps, Amazon Prime, Amazon Basics do benefit consumers (at the expense of competitors).
The challenge: over time, these services are eroding/eliminating competition. The Act is a blunt instrument; but waiting for the market to correct current imbalances may never happen.
Google: Marketers, Consumers 'Want the Same Things'
"We want the same things," is the headline from a new survey based report from Google and the Boston Consulting Group: "Consumers Want Privacy. Marketers Can Deliver." The study involved 1K consumers in North America and asked about privacy, ad relevance and data sharing. There's nothing really new here; it's the conclusion that consumers and marketers are interested in the same thing that's interesting. The findings are familiar: consumers want "relevant" ads, but they're fearful of how their data are being used. They will share personal information for the right incentives. These findings are basically consistent with every data privacy study from the past several years. The difference is that consumers are now much more sensitized to privacy, even as they lack understanding of how the data ecosystem works. The report contains tactical recommendations for marketers about transparency and building consumer trust with first party data.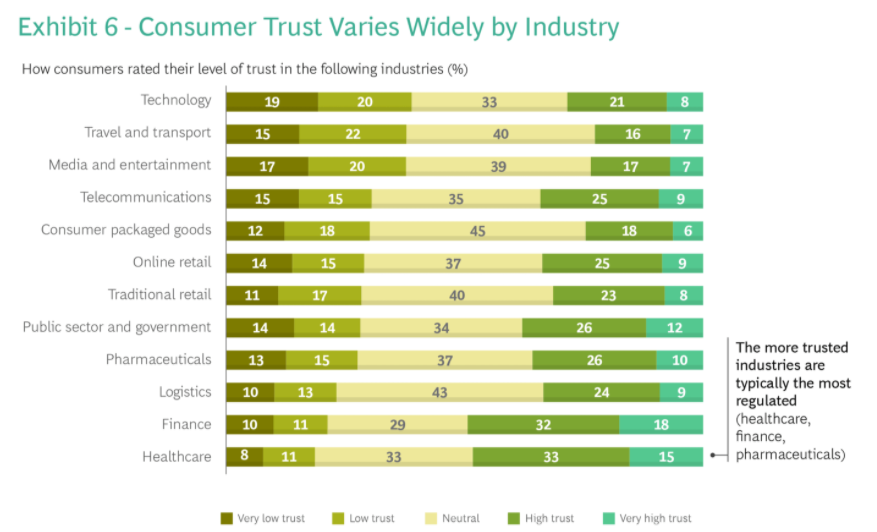 Our take:
No, marketers and consumers don't want the same things. Most marketers pay lip service to privacy but they actually want as much data as possible.
There's been historical resistance to educating the customer and full transparency about the data collected and what happens to it.
To this day, marketers and publishers make it difficult for consumers to control data collection. Look no further than cookie banners.
Recent Analysis
Short Takes
Listen to our latest podcast.

How can we make this better? Email us with suggestions and recommendations.