Google: 'Age of Visual Search' Is Here  
Google just concluded its "Search On" event, showcasing search innovations. It was mostly a review or update of things previously presented at Google I/O. Local was featured throughout: Multisearch Near Me, Maps Immersive View, Search with Live View (AR) and real-time product inventory. Beyond local, there was emphasis on images, computer vision and visual search. Google SVP Prabhakar Raghavan said, for example, Google Lens is used 8 billion times monthly. Multisearch Near Me, coming later this year, will take advantage of local product inventory to help find products nearby. Maps got considerable airtime, focused on Immersive View and Search with Live View. The latter overlays AR pins on the map through the camera lens. Clicks go to local GBP profiles. Food search (also near me) and product-search were also featured, with new personalization being introduced for shopping search and discover feeds.
Our take:
While this event presented some compelling use cases, the innovations seem to be partly responding to competitors and critics.
TikTok and Amazon were definitely subtext, as the company tries to claw back share or prevent the loss of share to competitors.
This was subtle, but Google at seemed to be deemphasizing reviews as a consumer tool in favor of other types of information. (More on this later.)
SMB SaaS Buying Triggers
Much has been written about SMBs and SaaS. However, a new(ish) report from Zomentum (survey by Bredin) offers a fairly comprehensive take on the buying process and SMB thinking. (Caveats: data is from 2021, SMB is defined expansively and the sample is small, 350 from multiple countries.) The survey finds the majority of SMBs have embraced SaaS and plan to increase spending. Top buying triggers include: the need for new capabilities or functionality (43%), a change in processes or new initiatives (31%), cost cutting (30%). Marketing, customer service and security are the top three areas of focus. In assessing SaaS tools, SMBs emphasize: 1) security, 2) proven technology (read: known brands) and 3) vertical fit. In doing research, SMBs rely on business publications, vertical sites, Google, YouTube, LinkedIn, email newsletters, analyst reports and vendor content (esp. video). They also lean on trusted partners.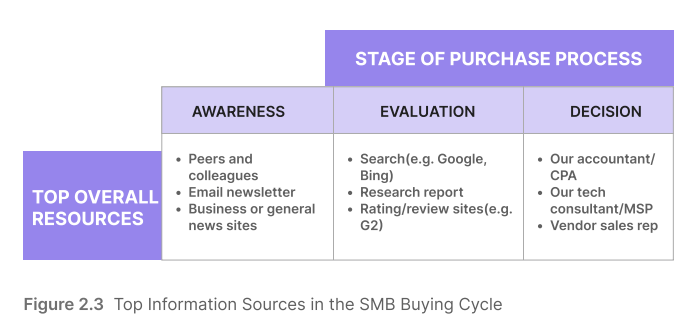 Our take:
SaaS companies must appeal directly to SMBs but also work with channel partners, according to the advice in this report.
SMB prefer working with partners for their consultative approach, onboarding support and customer service, even if it means higher prices.
What SMBs want to see: 1) evidence of time/money savings, 2) simple pricing, 3) ability to pay for only what they need and use.
Speechpocalypse Ahead  
Ever since Trump was "de-platformed," his supporters have wanted to punish social media. That showed up in Texas and Florida social media "anti-censorship" laws, which stipulated users couldn't be kicked off for their "ideologies." A conflict in appellate court decisions, upholding Texas but striking down Florida, will likely be taken up by SCOTUS. That will pit First Amendment rights of internet companies against those of individual users. Conservatives have been expanding the speech rights of corporations (think Citizens United) but the Florida and Texas laws, promoted by conservatives, narrow or eliminate those rights. A lot of thoughtful commentary has been written already. But if SCOTUS rules in favor of the "anti-censorship" laws, it will severely impair the platforms' "editorial discretion" over content. It could potentially impact (search) algorithms as well, which have been held to be a form of editorial discretion.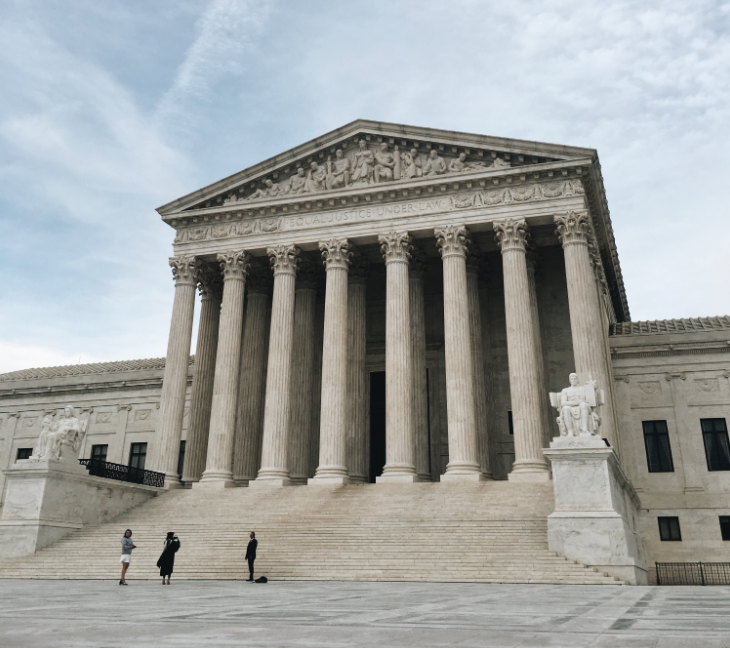 Our take:
We can agree platforms should enforce clear policies even-handedly. But there's evidence that they have not, often to the benefit of conservatives.
The Texas and Florida laws seek to all-but-eliminate "editorial discretion," which could mean more disinformation and extremism.
Both right and left want to "hold social media accountable," but a SCOTUS decision upholding the Texas law would have broad, destructive and unintended consequences
Short Takes
Listen to our latest podcast.

How can we make this better? Email us with suggestions and recommendations.