Google is showing more Merchant Center product images in the Local Pack across listings. The experience is currently awkward.
Right now, these Pack results will only appear on mobile for certain brand-level product searches.
Local shops should connect their POS with Google (e.g., Pointy, Shopify WooCommerce). Those that do will benefit, as Google exposes more local inventory over time.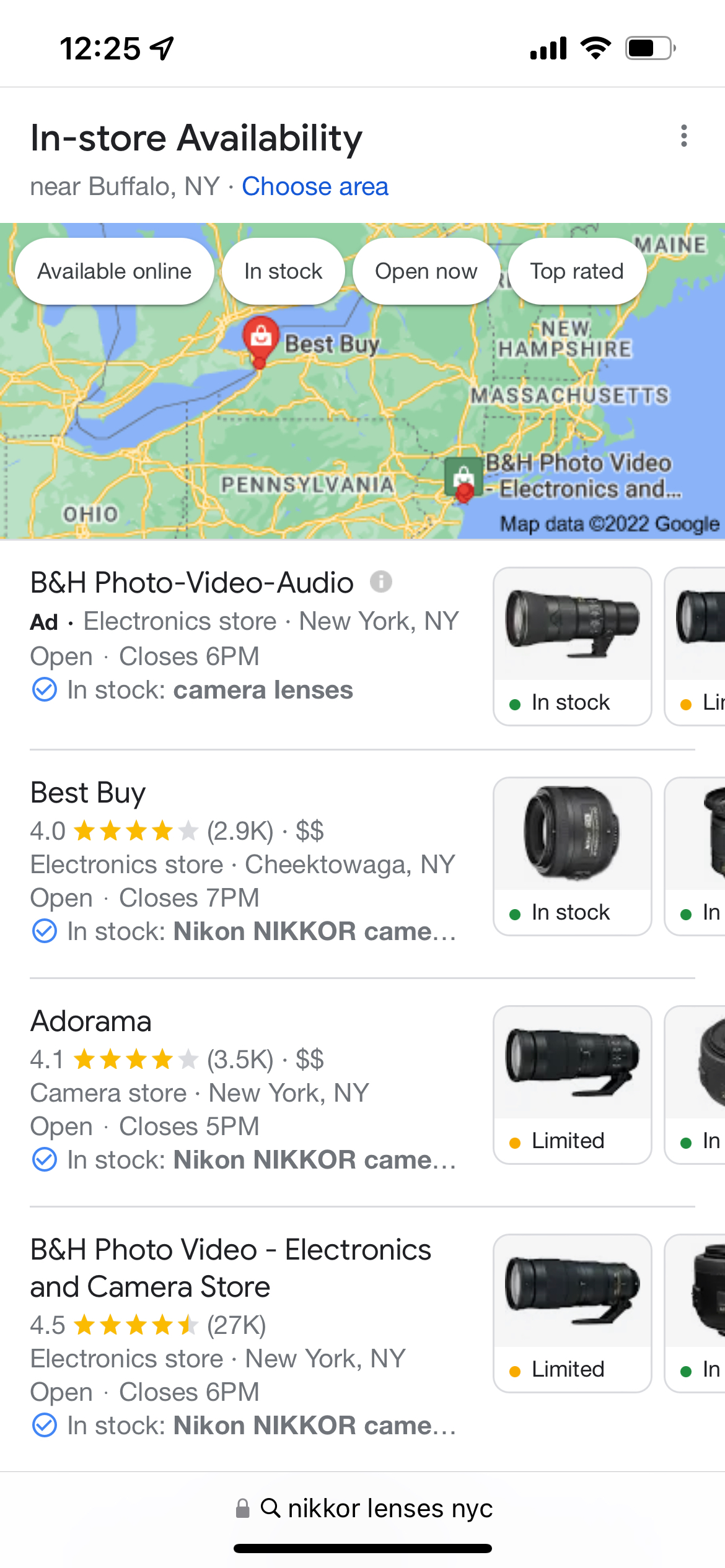 Google has been showing product images in Local Pack ads for some time. But now the company is starting to display more Merchant Center product images in the Local Pack result for all three listings.
This feature isn't new; it was first spotted by Jackson Lo of Shopify and highlighted on (where else?) SearchEngineRoundtable as early as July of 2020. But as more local shops bring their inventory online, and more of them are integrating that inventory with the free Merchant Center feed, Local Three-Packs with embedded inventory are showing up more frequently.
How Does It Work? Well...
Unlike Google's food ordering, where they control the experience in a single, fluid flow, local product inventory behaves more like the cross-product tool that it is. In other words, this experience feels half-baked with with too many clicks to get where the user needs to go.
When you click through an image to the listing, you are usually taken to the "see what's in store" search field in the business profile. If there is a current Google Post about the same product category, you might be taken there instead.
When you click on the specific item you are looking for, instead of going directly to the e-commerce site, you are taken to the Google product page and then onto the e-commerce site. That makes three clicks if you don't hit the Local finder first, in which case it turns out to be four clicks. It seems an unnecessarily lengthy journey so low in the funnel.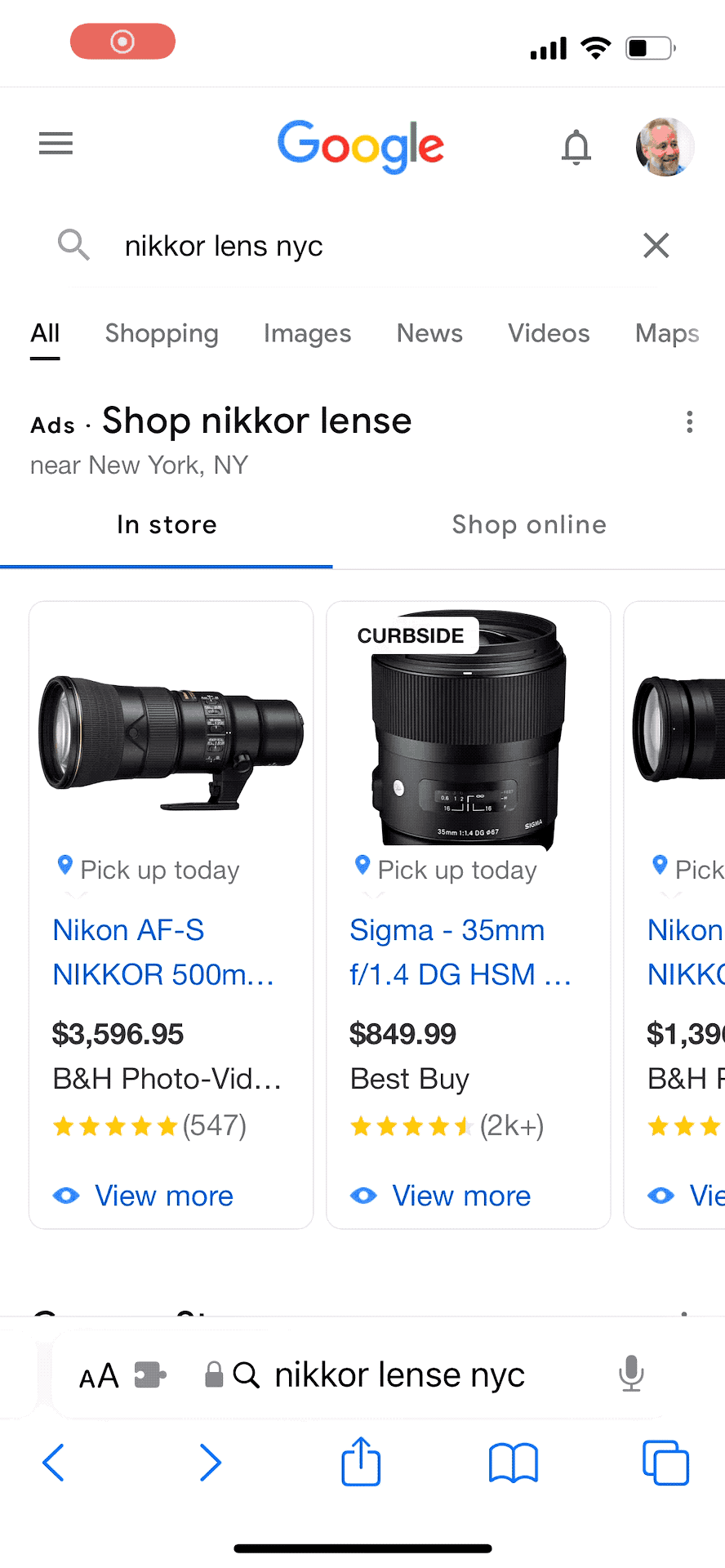 Branded Queries on Mobile
For now at least, only certain brand-level product searches will surface inventory in the local pack. Results are just on mobile. For example the search "Nikkor lens NYC" delivers these type of results but "Nikon lens NYC" does not, nor does a search for a specific lens surface these results.
Other mobile searches that surface in-pack inventory include "Nike Shoes Manhattan" and "Sneakers Manhattan." But many other searches that should show inventory, such as "women's jeans NYC" or "snow blowers buffalo NY" do not (yet) surface a Local Pack shopping result.
The other issue that might concern some is that Google places these product images in front of images uploaded by the business, when displaying them in the Three-Pack. I have seen anywhere from one product image to as many as five supplanting the images from the Google Business Profile.
Why Now?
Google has long worried about losing to Amazon in product search. And by 2018, their fears had come to pass, as Amazon toppled Google as the primary search engine driving product search.
Google has also long been optimizing the transactional layer of the Local Pack. And nothing is more potentially transactional than local product searches.
But in recognizing both their strengths and weaknesses in product search, Google has been putting in place the pieces to make a play against Amazon's dominance. While Google is expanding their free Merchant Center usage dramatically, it's also attacking Amazon orthogonally through its strength in local search.
These product-driven local results are possible now because of Google's continuing build out of technology needed to capture local inventory information from e-commerce platforms (in near real time) and the growth of platforms like Shopify and WooCommerce by more local businesses, which can then provide inventory data to Google.
Products in Local: The Backstory
As far back as 2008 and Froogle.com* Google has been attempting to index and display product availability. It may appear that products in the Local Pack is a relatively new development. Yet, as the timeline below indicates, it's the product of ongoing effort that began at least a decade ago:
Can Google Compete with Amazon?  
Local search is an area where Google dominates and they have slowly but steadily been building out the pieces to provide local product search, which not only shows where an item can be purchased locally but also whether it's in stock at the moment. This is a type of search that Amazon currently can't compete with.
As Greg Sterling recently pointed out "local inventory (online) can help divert consumers away from Amazon. But it's not inventory alone; it's inventory + convenience.... stores able to offer real-time inventory and multiple convenience options can win."
Google is counting on that reality to ground their efforts in their struggles with Amazon. They are betting that local inventory plus local convenience, once more broadly visible, will help revive their prospects in product search.
SMBs Should Lean In
Our bet is that this sort of transactional result in local will increase going forward. It behooves any local business that has inventory and a POS to take advantage and get the integration of your POS with Google worked out. It will likely provide an initial advantage in the search results and you will be well positioned once Google expands beyond the currently limited category choices.
---
*Surprisingly, the domain Froogle.com is still active and redirects to https://shopping.google.com/?nord=1 and delivers personalized product search results.