FB Survey: SMBs Remain Fragile As Economy Reopens
A recent report (.pdf) from Facebook chronicles the challenges SMBs faced in 2020 and continue to face. Despite positive economic signals suggesting strong growth ahead, many SMBs are not yet seeing the benefits. Because of cash-flow issues, a meaningful minority continue to worry about survival, which has slowed hiring and rehiring of laid-off employees. During 2020 closure rates were higher for businesses owned by women and minorities. Many businesses were able to pivot sales online. According to the survey findings, 40% of SMBs made at least 60% of their sales online in Q4. The survey also shows how shopping patterns shifted during the pandemic toward local businesses, even as people bought more online.
How consumers have changed shops they regularly use, by gender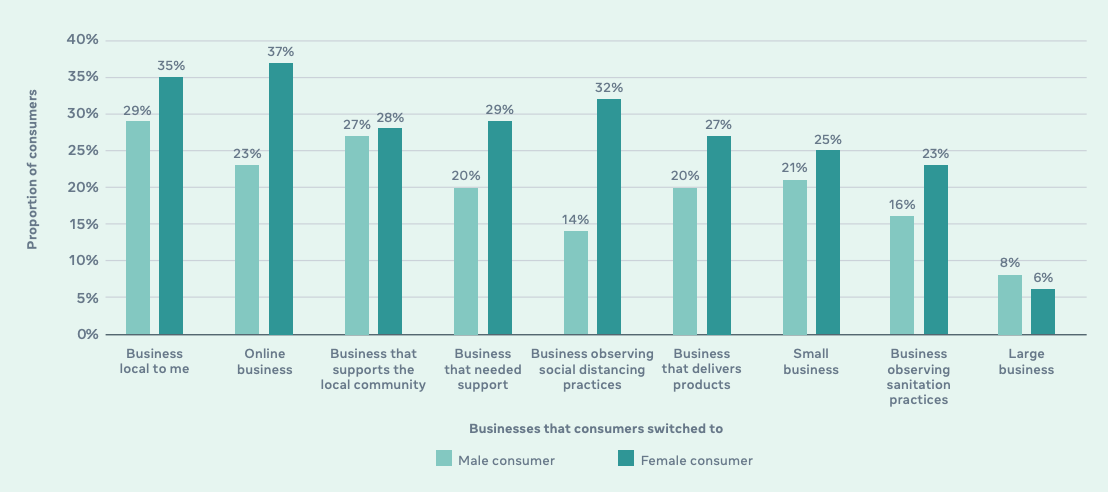 Our take:
The report provides a 360-degree view of SMB challenges, from cash flow to childcare. And cash flow remains a major problem for many.
It also does a good job of illustrating the operational issues that still plague the SMB sector – i.e., shipment delays, limited supplies.
Many SMBs also think it will still take six months or more to recover. As we've been saying, this will be an uneven recovery.  
Amazon Aplenty: House Grocery Brand Strategy Expands
Amazon has created more and more house-branded "Amazon Basics" products in multiple categories on its Amazon.com site. The company has been accused of using sales data to determine which categories to enter and then undercutting third party sellers, which is part of a cluster of potential antitrust claims against the company. It's pursuing a similar grocery strategy. The online retailer just introduced a new private-label grocery brand: Amazon Aplenty. It's merely the latest house brand in the company's growing "grocery portfolio," which includes numerous categories. Aplenty will be sold online and in Amazon Fresh stores: of which there are currently 12, expanding to 36 in the next couple of years.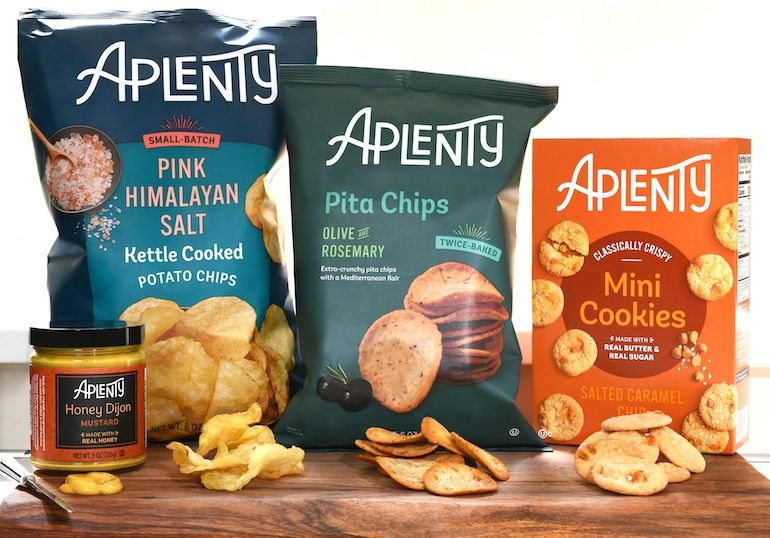 Our take:
According to the USDA, non-convenience grocery sales in 2019 were $653 billion, with the top 20 retailers owning nearly 2/3 of that total.
Amazon, with Whole Foods and an aggressive Fresh expansion strategy, is in a position to capture a meaningful share of the market.
Amazon's omnichannel strengths and Prime loyalty program make it a formidable challenger, which may trigger more industry consolidation.
Dick's 'House of Sport' a Bold Bet on Experiential Retail
At a time when many retailers are closing stores and shrinking their physical footprints in favor of e-commerce, Dick's Sporting Goods is making a bold bet on stores and experiential retail. Dick's House of Sport is a new expanded-store concept in Rochester New York, which will host events, classes and allow amateur athletes to try out and test equipment. The store also sees itself as something of a community center: "Our community sports partnerships are at the heart of everything we do. From welcoming local experts to teach classes to opening our field to local teams, we are dedicated to creating a space where everyone can pursue their passions and ignite new ones."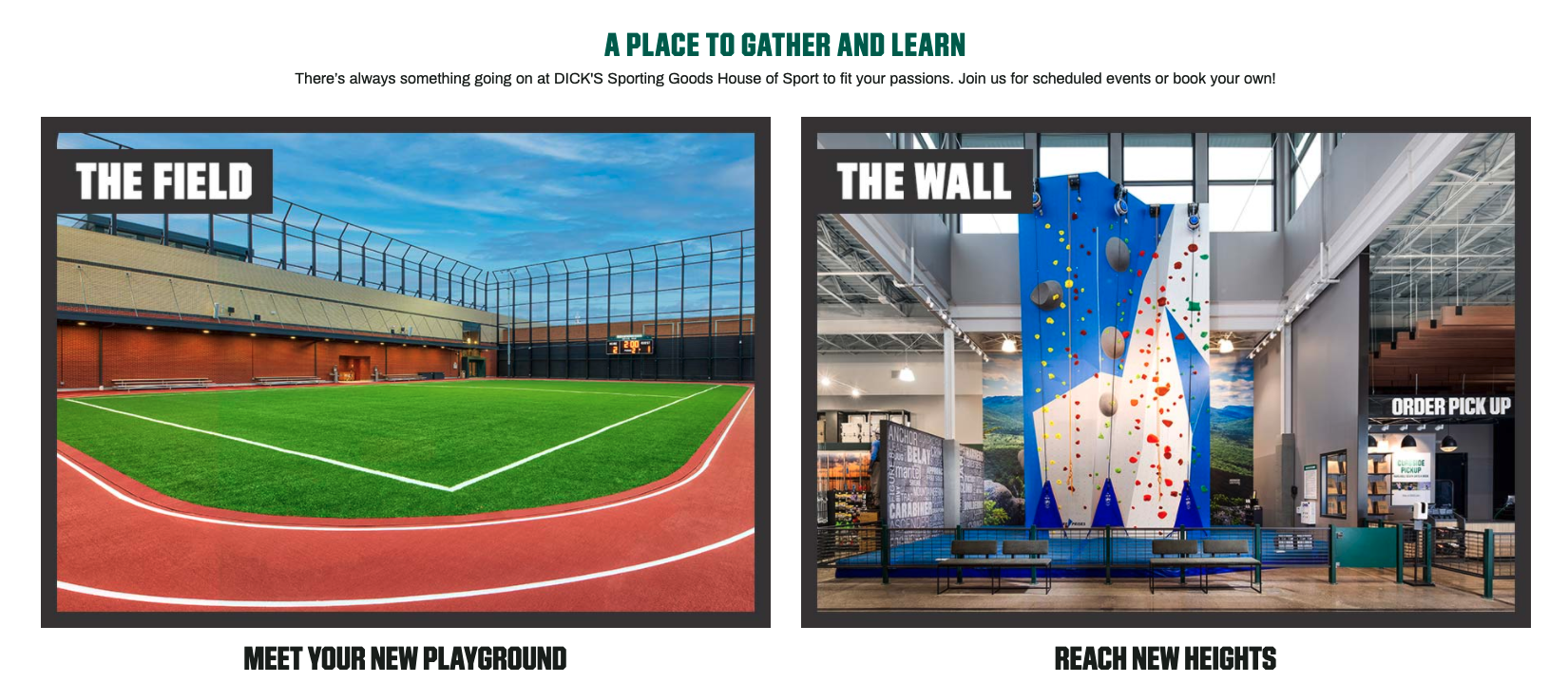 Our take:
Pre-pandemic "experiential retail" was a buzzword, intended to excite consumers about visiting stores. But most retailers are scaling back such ambitions.
Many DTC brands see their stores as places to "experience" their products in the real-world as much as to buy them.
In the post-pandemic world, stores will need to offer: value/convenience, fun, great service or some version of all three. Otherwise: Amazon.
Short Takes
Google Assistant will now autocomplete food orders with Duplex.
Will anyone use it: GM's Maps Plus for cars without navigation.
Autonomous Domino's pizza delivery being tested in Houston.
Is "housing market crash" search query wishful thinking or predictive?
TikTok adding new shopping ads and e-commerce tools.
Facebook builds speed dating app called Sparked.  
PCs are back: market grew at fastest pace in 20 years in Q1.
SMB-focused online bank Hatch launches with $20 million investment.
NY Cops deploy robot surveillance dog in public housing project.
Brave and DuckDuckGo block Google's FLoC post-cookie tracking.

Please let us know what you think. Email gsterling@nearmedia.co with suggestions and recommendations.