Fake reviews are directly resulting in purchases and major economic losses. This is one story of the impact of fake reviews, but representative of a much larger problem.
While buyers can and should beware, Google has convinced us to trust its review summaries, which can mislead. A deeper look reveals the fraud lurking below the surface.
Given the increasing sophistication of Google AI, why can't the company deploy it against review fraud on its own platform to prevent bad businesses from looking good in search results?
At first glance Kelly Lift Equipment looks respectable: a Google My Business listing, well-shot photos showing significant inventory*, a 4.2 Star rating and a decent looking web site.
Bill Scalise thought so as well. That was until he sent a check for an expensive piece of equipment that never showed up, and Kelly Lift Equipment stopped responding to him without ever delivering the equipment.
Obviously, this motivated him to look further at Kelly Lift Equipment reviews on Google and the BBB.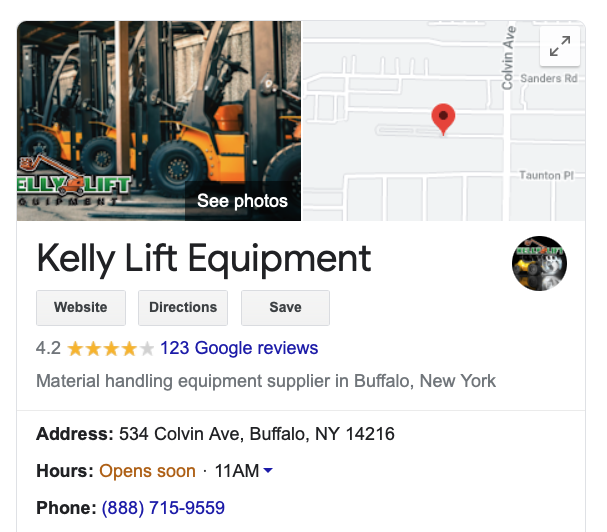 Anatomy of a B2B Nightmare
Bill Scalise soon realized he had made a huge mistake in sending Kelly his money. But he had the courage and decency to post in the Google My Business forum, and ask that the fake reviews he had discovered be taken down. That is where I first met him.
Often when we speak of fake reviews, we talk of consumer harm as an abstraction. In this case, the consequences of the fake reviews were very real and involve tens of thousands of dollars. That amount, while large, is likely just the tip of the iceberg.
Bill Scalise is president of St. Louis-based Chase Partitions, which produces high quality corrugated and chipboard products.
When he started looking for a forklift, Bill went to 123forklift.com and followed the steps to determine what type of lift he wanted to acquire, a 12,000 lb. Yale forklift with a 72" paper roll clamp. Dealers, including Kelly Lift Equipment in Buffalo, started reaching out to him.
Bill noted in an email that his communications with Kelly Lift Equipment raised no warning signs:
After likely close to a dozen calls and emails answering all my questions and evaluating my trade-in, we settled on a price. He asked me to pay by check, which is pretty standard for our industry, so I obliged. I did a brief glance at location and reviews, and noticed the 4+ stars on Google.
My mistake was not digging further and uncovering the paid fake reviews from 10 months ago and reading all the 1 star reviews. I didn't bother checking Yelp or BBB as I wasn't sure there would be much there for a forklift dealer.
Bill was promised delivery in 7-10 days but that was weeks ago. He added:
Absolutely nothing was delivered and the guy/company completely vanished. He stopped answering calls and emails after payment was sent, aside from one time he said it was supposed to ship.
Bill is currently out of pocket $17,936.51 and has just engaged his lawyer.
Many, Many Others Impacted
Bill's story with Kelly Lift is not unique nor was his procurement process. In the world of B2B large equipment, buyers will frequent an online-marketplace, perform some sort of diligence via Google search and then send out a check.
Some of those deceived have left reviews at Google and the BBB to note their losses in the tens, even hundreds, of thousands of dollars. Yet Kelly Lift still has the 4.2 rating summary on Google that deceived Bill.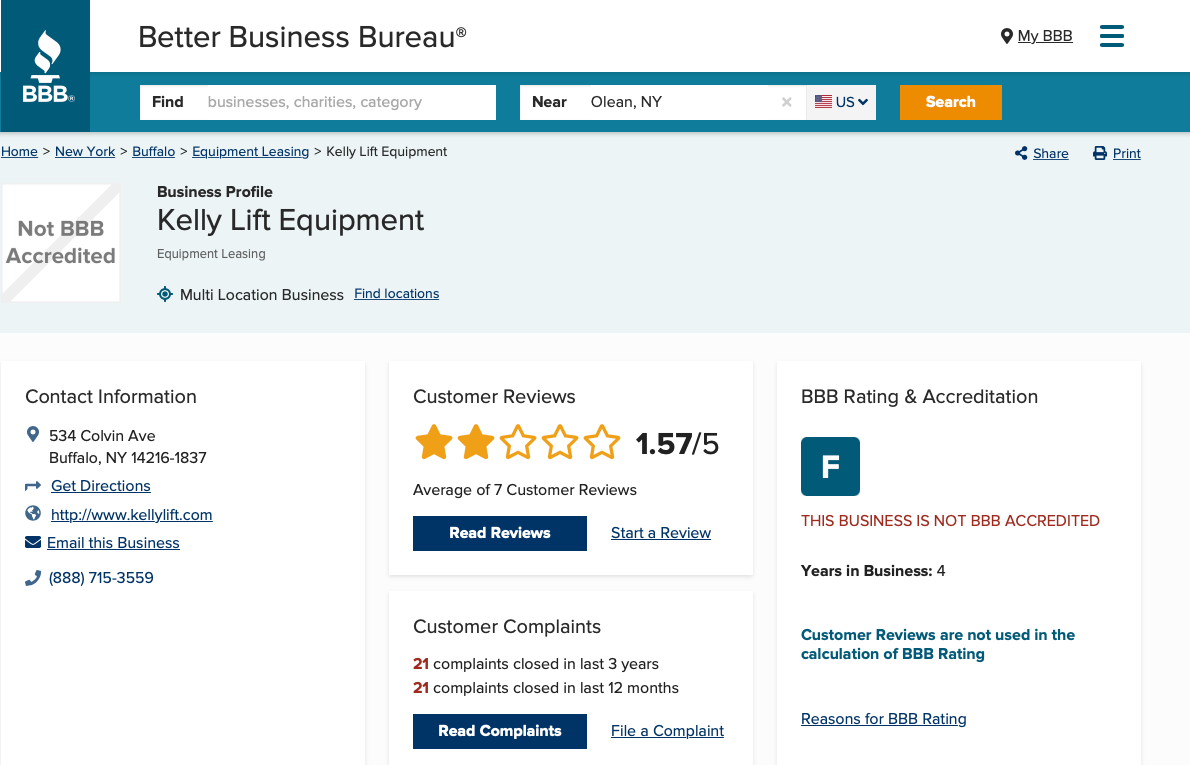 Bill's mistake, as he has noted several times, was not checking out Kelly Lift at the BBB or digging beyond the review summary to read the negative reviews at Google. Certainly they were there for the world to see. The BBB has an "F" rating for Kelly Lift, with 21 complaints and 7 negative reviews over the past year. Google is showing 25 1-star reviews, many with the same tale. And negative reviews continue to come in.
When you read through the reviews you realize the $17,936.51 Bill spent is a fraction of the overall money lost. Many reviews mention significantly more; the aggregate losses are likely in the hundreds of thousands of dollars. And these are only the folks, like Gina D, that took the time to write reviews to warn off others.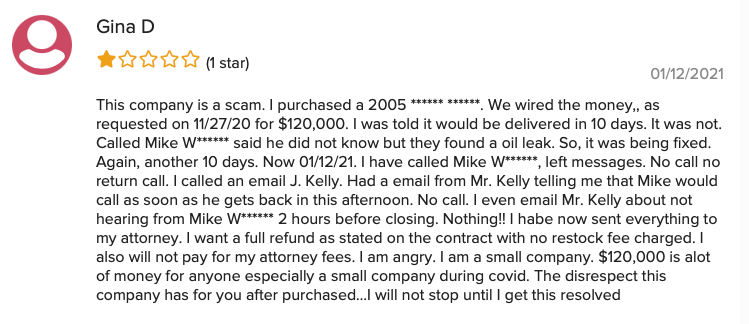 Fake Reviews Easy to Spot – If You Look Closely
One could argue Bill was at least partly responsible for the outcome, by failing to do enough due diligence. But he made one mistake that many of his peers and many of us also make: trusting Google. It was misplaced to trust that the Google review summary information was accurate.  
These reviews -- just under 90 of them at Google -- match all the familiar patterns we've seen with fake reviews. For example, reviewer Holly Hessen is a Level 5 Local Guide whose profile image is from Shutter Stock and who hides her reviews.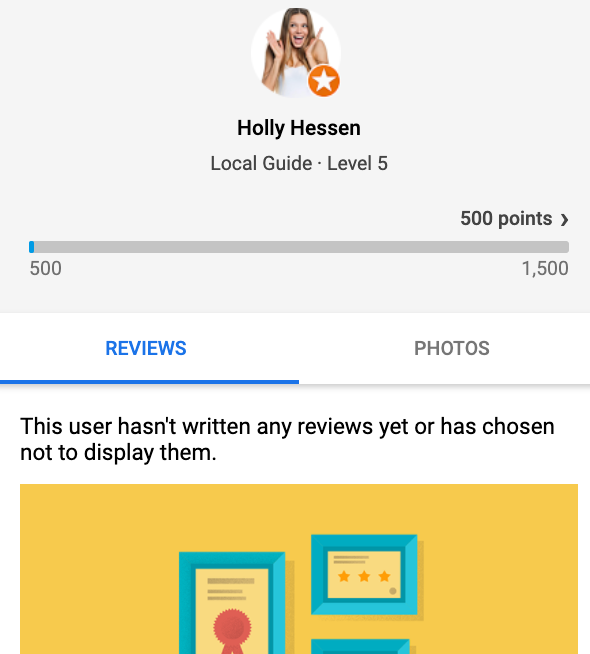 Reviewer Leavitt Vicki reviews locksmiths and numerous high spam, home service businesses across the breadth of the United States. How many home repairs does one person need in different cities miles apart?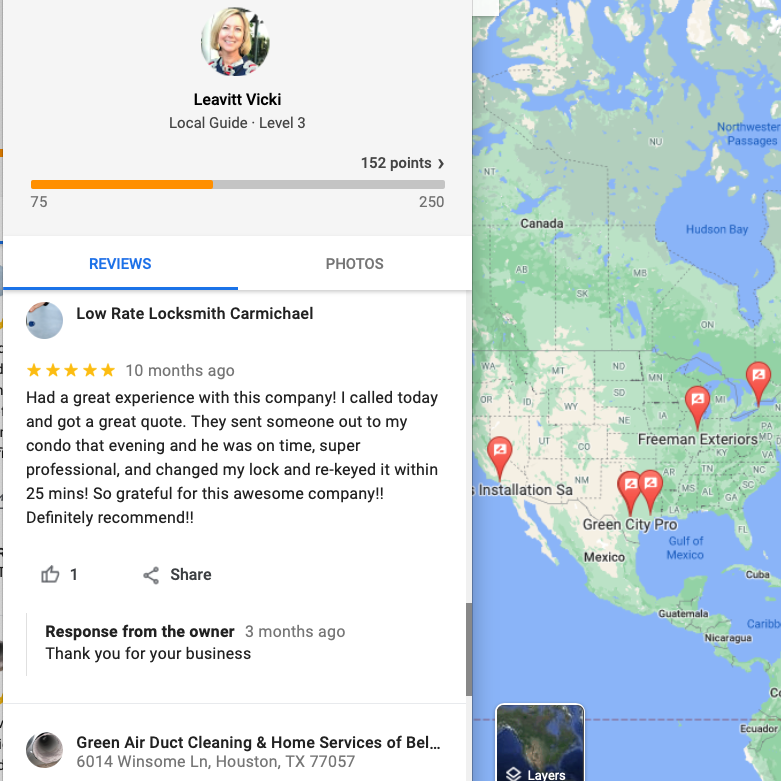 As Bill pointed out, a number of the reviewers highlighted that Kelly Lift was in NYC when they are in fact in Buffalo. (I guess you need to pay extra for geographically accurate fake reviews.)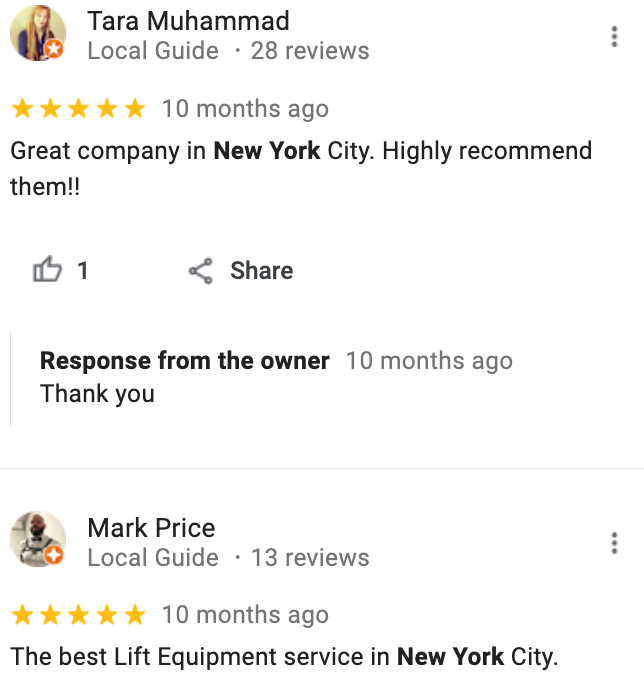 Virtually all of the positive reviews are easily identified as fake by anyone taking a close look – anyone except Google.
Bad businesses existed before Google and will exist long after Google is gone; Google can't fix that. However, Google is the beginning and end of many purchase cycles. It's the top online reviews destination by far. Google search dominates both the users' quest for product sourcing and, through Google's aggregation and display of reviews, validation of seller reputations.
In Google We Trust?
Sundar Pichai, Google's CEO, has said, "I view... [AI] as the most profound technology that humanity will ever develop and work on, and we have to make sure we do it in a way that we can harness it to society's benefit. But I expect it to play a foundational role pretty much across every aspect of our lives ... be it health care, be it education, be it how we manufacture things and how we consume information ... if you think about fire or electricity or the internet, it's like that, but I think even more profound."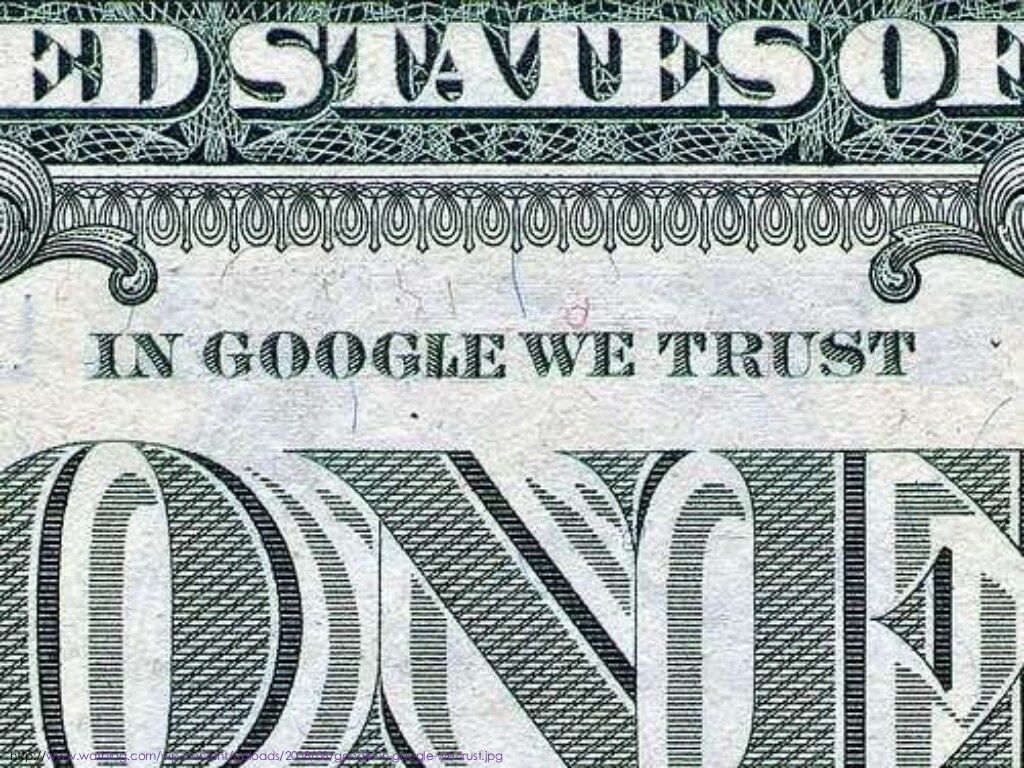 Clearly Google is bullish on AI and wants its own technology to be used across many industries. One would therefore assume, with Google's world-leading AI that can translate 109 languages  and identify poison ivy in the wild from a photo, the company should be able to spot obvious fake reviews. And if that's in fact the case, they should then be able to create a review environment that doesn't help bad businesses look good.
Yet apparently, after 13 years in the review space, Google can't seem to create a review algorithm that reliably and accurately identifies fake reviews and prevents them from showing.  
Why Can't AI Fix It?
Google has become a utility that is useful in all sorts of ways. Google seeks to improve and reinforce that role using AI. It sees AI as the core of everything they are now doing and will be doing in the future. And yet all too often they seem incapable of producing truthful results.  
The real world impact of presenting Kelly Lift Equipment as anything other than abhorrent is unethical and deceptive -- and very costly. Again, one could lay some responsibility on Bill Scalise, which he accepts. But significant blame should also fall on Google for presenting these results, knowing that many of them are not true. Google should also be blamed for not having fixed (or more aggressively addressed) the fake review problem, despite the growing sophistication of their AI.
Whether because of incompetence, laziness, inattention or egregious self-interest, Google has effectively allowed companies like Kelly Lift Equipment to continue to perpetrate customer deception and highlight themselves via Google search.
As a society, if Google can't solve the basic problem of review spam, we certainly cannot trust them to "harness [AI] to society's benefit."
---
[*] It turns out that the legit looking photos are not orignal photos either. Most, including their
cover photo
, are just lifted from elsehwere on the internet:
Example 1
,
Example 2
&
Example 3