What the FLoC? Google says its cookie alternative is working
The acronym stands for Federated Learning of Cohorts, which replaces third party cookies with a targeting approach that uses groups with common browsing behavior. Google said FLoC can deliver "at least 95% of the conversions per dollar spent when compared to cookie-based advertising." Chrome will end support for third party cookies next year.
Our take:
Bowing to external pressure, Google introduced its experimental "privacy sandbox" in Q3 2019 to create "a secure environment for [ads] personalization that also protects user privacy."
Google previously released a preliminary study that showed people with similar browsing histories could be targeted collectively, as an alternative to individual identifiers.
Despite its privacy appeal, Google critics argue theFLoC framework only reinforces the company's dominant position in online advertising.
Yotpo called out by FTC for 'review suppression'
Yotpo has made changes in its review moderation process after an FTC investigation that found the company was enabling "consumer deception" with tools that "provided its clients with the means and instrumentalities to easily and deceptively suppress negative product reviews...and mislead consumers." Given Yotpo's cooperation, the FTC decided not to punish the company.
Our take:
Yotpo will still allow customers to set ratings thresholds for publication but negative reviews must now be manually rejected within 14 days or be automatically published.
Yotpo is also making clear brands can only reject reviews for FTC-approved reasons, not because they're unhappy with a negative opinion.
Inauthentic or manipulated reviews are a growing problem and review integrity will be a significant theme in local this year.
Surge in queries for 'vaccines near me'
Google announced several initiatives to enable consumers to obtain more reliable information about COVID vaccination availability. Searches for "vaccines near me" have increased 5x since the beginning of the year, Google said. To deliver more authoritative information, Google has partnered with government and healthcare entities in four states, with a global rollout to come. Google also said it was providing $150 million to promote vaccine education and equal access.
Our take:
As much as "vaccines near me" queries have grown, volume is still small compared with local searches for "COVID-19 vaccine."
Google's moves are a mix of altruism, enlightened self-interest and public relations, at a time of increasing scrutiny for the company.
It's noteworthy how quickly Google pulled this together and illustrates the company's ability to respond decisively to dubious content or disinformation in its search results.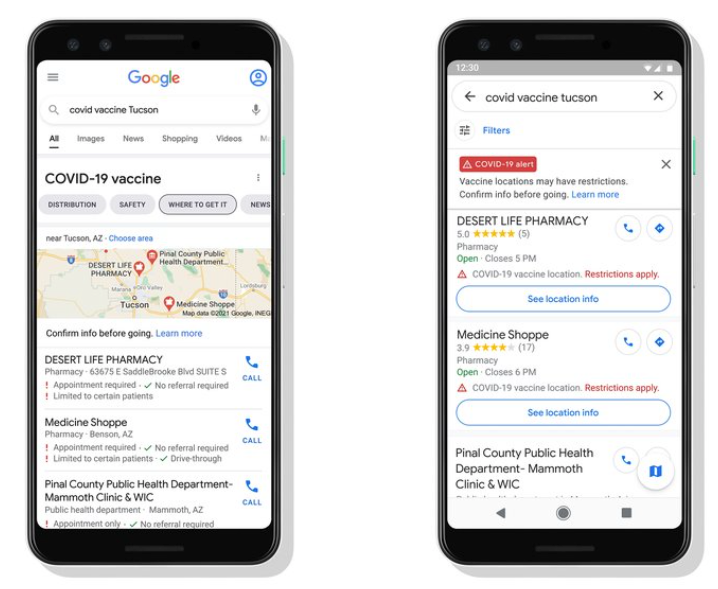 Short takes
Please let us know what you think. Email gsterling@nearmedia.co with suggestions and recommendations, compliments or complaints.