Through the lens of a hospitality case study we see the entire evolution of the reviews landscape and competitive dynamics.
Yelp largely failed to scale, which held back its advertising system. It also failed in its product vision compared to others.
Google may well be a monopoly today but we shouldn't judge its past behavior using new antitrust frameworks.
Ten Thousand Waves(1) – a spa, hotel and restaurant – makes the perfect case study for a long term view of review competitors in the hospitality industry. It was founded in the early 1980s and by the time the internet rolled around it had become a beloved hotel and spa in Santa Fe.
Inspired by the great Japanese mountain hot-spring resorts, Ten Thousand Waves created a peaceful, calm ambiance without much of the cloying New Ageism all too common in Santa Fe. In 2014, they added a moderately upscale Japanese-New Mexican fusion restaurant called Izanami.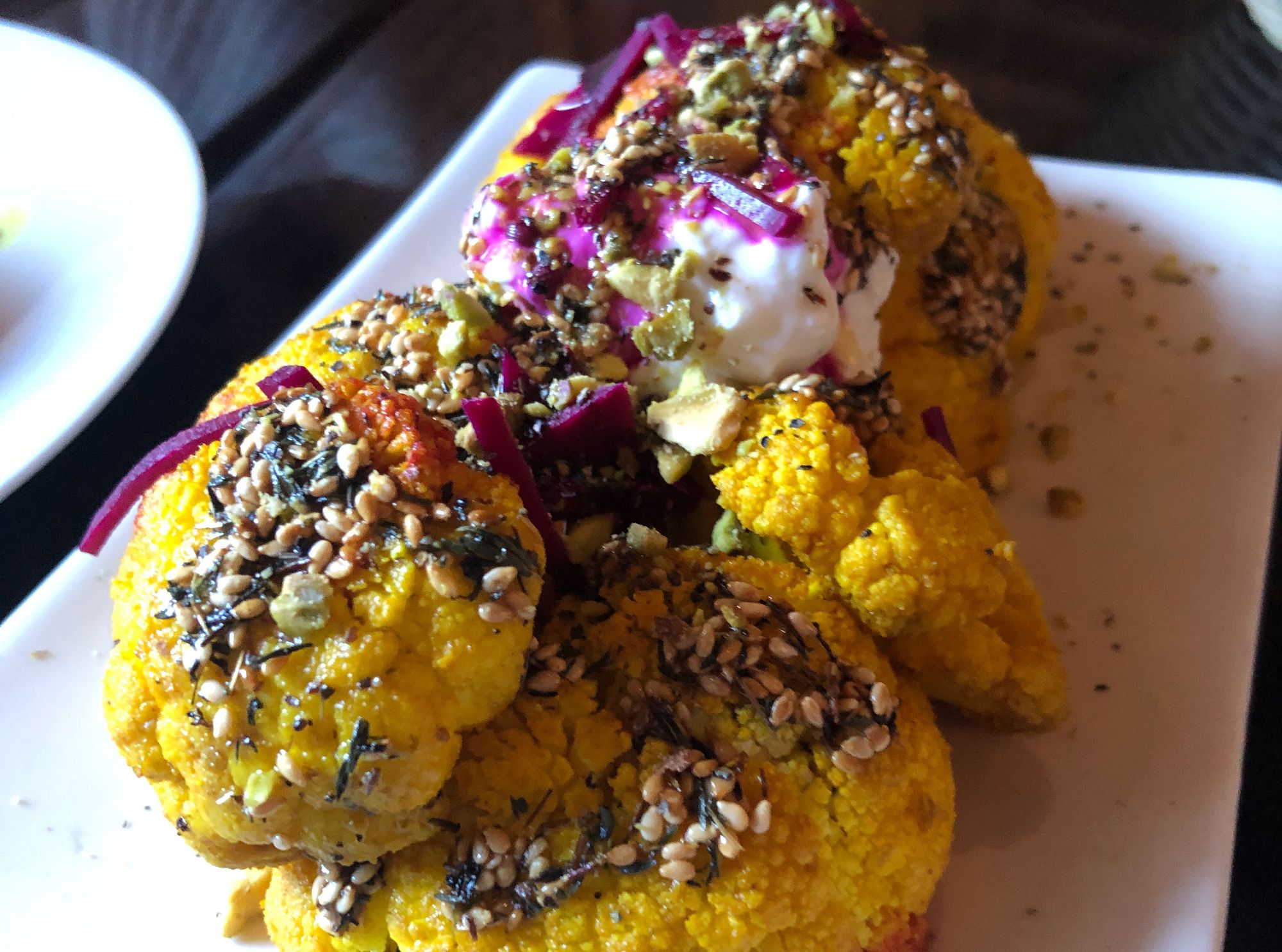 A Perfect Case Study Lens
Because Ten Thousand Waves has been in business so long and spans three hospitality categories (lodging, spa and high-end food service) its review corpus reflects both the history and variety of the review space over time and across several verticals.
Annual Review Count by Review Site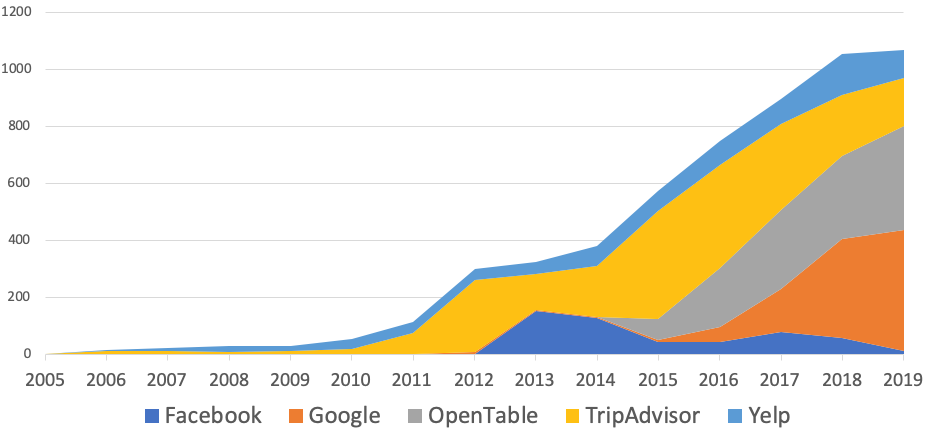 Ten Thousand Waves has a singular focus on the experience of their visitors. While they never asked for a single review, they operate in industries where organic, non-solicited reviews are common – and they have a lot of them. Even as Ten Thousand Waves expanded and added services, they mostly maintained their well-loved status, with 4.5 and higher ratings across review sites and categories. The lone exception is their restaurant listing on Yelp, which has a 3.5 star rating. (The graphic below consolidates the spa and restaurant scores.)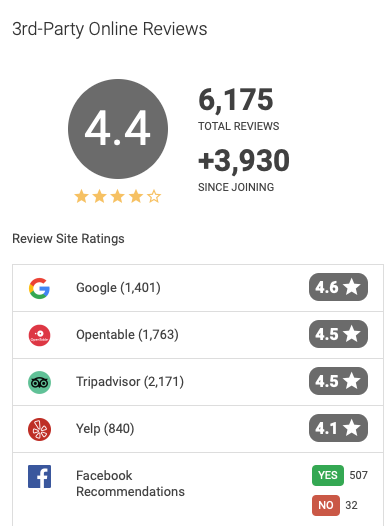 Ten Thousand Waves provides an interesting lens to analyze the review space: who has succeeded, who has failed and the current lay of the land. Their review corpus is also a lens to view the argument that Google's monopoly practices led to review dominance and are at the root of Yelp's problems.
Highlights of Annual Review Count by Review Site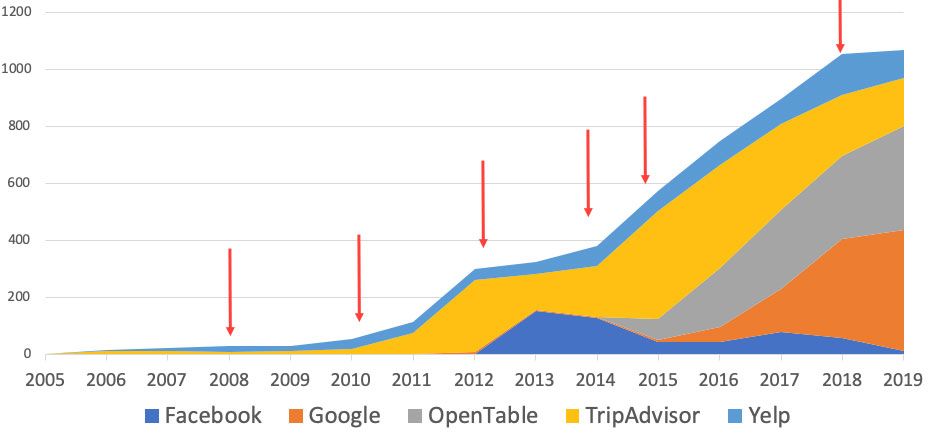 Review Timeline Highlights
2008 - Yelp catches up with and passes TripAdvisor
2010 - TripAdvisor gains significant steam
2012 - Facebook, thanks to a recently-released and successful mobile app, starts to gain massive ground in the review space and does so very quickly
2014 - Izanami Restaurant opens its doors and integrates with Open Table. Yelp continues its slow, steady growth. You start to see the beginning of a decline in Trip Advisor and Facebook reviews.
2015 - Google enters the scene and starts to see high growth.(2)  Both Google and Open Table start to take off, largely impacting TripAdvisor, which had somewhat rebounded from the Facebook effect.
2019 - Declines in review growth across the board; Open Table is the least affected.
2020 - I chose not to include 2020 because it was so disruptive for Ten Thousand Waves and their review counts,(3) as for so many hospitality businesses across the globe.
The Yelp Story: Growth Without Scale
As you can see in the above chart, in the case of Ten Thousand Waves, Yelp has seen steady, albeit moderate growth over time. Year in and year out, Yelp saw an average of 58% growth in annual review count.
Annual Review Count of Yelp Reviews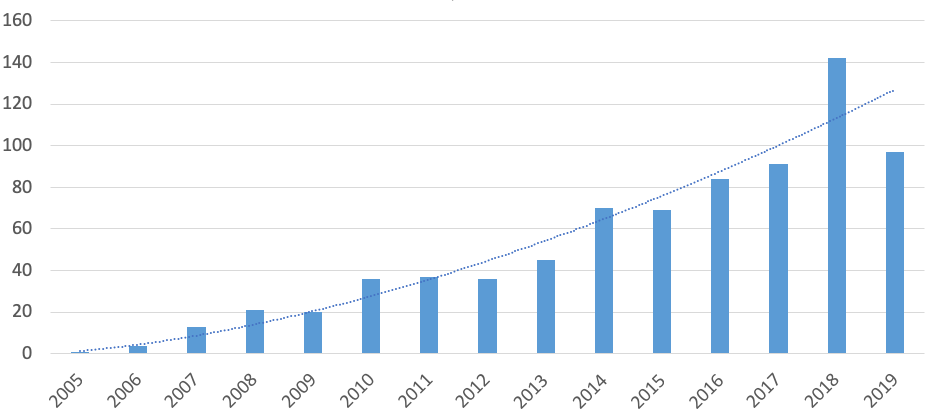 While that would be impressive in many industries, the internet is all about scale and rapid growth. And Yelp has seen the lowest annual average growth compared to its competitors.
Not Keeping Up
The inability of Yelp to grow fast enough to keep up with its many competitors becomes painfully clear when you plot each review site's reviews as a percentage of the annual total.
Percentage of Annual Reviews by Review Site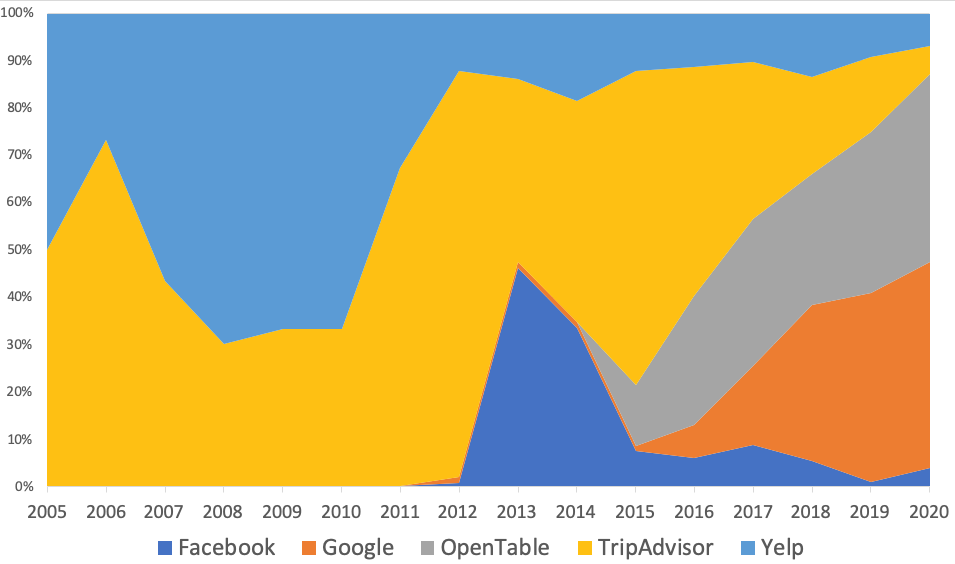 It isn't just Yelp that is taking it on the review chin from the relative newcomers. Early on, Yelp faced off with TripAdvisor and seems to have lost that race. Facebook, for whatever reason (4), after besting Yelp and impinging on TripAdvisor, threw in the towel after a strong start. Yelp initially held its own against Google and OpenTable while TripAdvisor's review corpus continued to contract as a percentage of the total.
While Google has shown significant growth since 2014, it is really OpenTable's breakout that defines the story. They have continued to capture a greater percentage of reviews against Yelp, TripAdvisor and particularly Google. Even through the slowdown of 2019 and the shitshow of 2020, OpenTable continued growing their share of the corpus at a higher rate than any of the other sites.
Yelp's Missed Opportunities
Yelp clearly had an early review lead, but each of the subsequent players managed to squeeze out greater growth (even if for just a period of time), constraining both Yelp's absolute and relative possibilities.
Early on, Yelp missed the opportunity to scale their users. This lack of scale has held back their advertising system. Their ad business has rarely provided solid ROI for the businesses that used it. With their visitor traffic now dropping, huge success in their ad business is unlikely. It would appear that ship has sailed.
They have also missed numerous opportunities in the local transactional space. It was clear as early as 2010 that transactions were a huge opportunity and still will be. Yelp could have leveraged their traffic and moved into reservations, appointments, communications or even (God forbid) CX and reputation management. They did try their hand at food delivery but were unsuccessful. The lost opportunities have been many.
This view of the review reality doesn't so much reflect Google's abuse of its market position as the need for scale on the Internet – and Yelp's inability to find a compelling enough use case with their current product to achieve high flying gains.
For Yelp, not having found another high-use function, reviews continue to play a central role in their story. For its competitors, reviews played and are playing a secondary role to support other activities and sources of income (e.g., transactions).
Stepping Stone to Transactions
TripAdvisor has become a booking tool and now offers a traveler support subscription. Facebook had bigger fish to fry than local reviews. Google uses reviews for a million things from ranking to entity understanding, but if reviews were gone tomorrow, they wouldn't skip a beat. And for OpenTable, reviews are a way to validate and confirm a user's decision to book a table. Of all of the sites, OpenTable has a unique advantage by providing a valuable business tool, and in turn providing verified reviews from actual customers. This is not an insurmountable advantage but one that is serving OpenTable well for now.
To a large extent Yelp's "Product" was and is reviews. Unfortunately this pdoduct has become just a feature for everyone else. For Yelp, their inability to move beyond just reviews has led to struggles with both consumers and business. Their desire to convert web visitors to their mobile app led to the use of horrendous interstitials and continual nagging. Their site traffic has been on decline amongst consumers for the past several years.
More importantly they have consistently sullied their brand and relationships with businesses. Their hard sell tactics, their prohibitions against review solicitation and a review spam algorithm that favors long form negative reviews have all conspired to create a situation where most small businesses and many big ones want nothing to do with them.
Not surprisingly, in the case of Ten Thousand Waves, whenever I broached the subject of Yelp, there was an audible moan in the room. The management of Ten Thousand Waves not only wanted nothing to do with Yelp but lived in a state of stress, fearing their next snarky Yelp review, a stress that they experienced with no other review site.
The Antitrust Conversation
All too frequently when Google does things correctly and gains ground because of it, there is a tendency to go back in history and ascribe nefarious motives to their actions.
I am not one to defend Google and they are certainly super competitive and willing to go to great lengths to "win" wherever they decide to play.(5) But if they win by providing a more complete and better user experience for consumers and if they win by sending a gazillion free leads to small businesses, the question is: were they really abusing their monopoly power to disadvantage Yelp?
I suppose we might find out the answer during the antitrust litigation. But it appears to me that Google was operating within the legal boundaries of the Bork antitrust framework that has been in use by our government over the past two decades.(6) And by that doctrine, however flawed, Google did right by the consumer and did not need to worry about the impact that they had on competitors.
Society might, and probably should, set new antitrust guardrails going forward in its regulation of monopolies like Google. But to now go back and decide Google abused its position, using a new legal or economic framework, is revisionist and too simplistic.
The Way Forward
From where I sit, the Yelp story is about the company's failure to find a compelling business arc, after their moderate success with the long form review. But it is also about how all of the other players have had success at pursuing reviews as part of a bigger picture or value proposition. In doing so, all effectively capped Yelp's opportunities.
All of these competitors, not just Google, were able to use reviews as a tool to scale quickly and help them find profitable paths for their business. Yelp has not.
Yelp, unlike the other players, unfortunately built a business dependent on Google search for client acquisition. When Google changed, Yelp was unable to establish effective ways of converting searchers to users and all too often alienated them with things like annoying interstitials.
The company has become mired in the limited value offered by the long form review and the rigid demands they make of their "partners." After 15 years, Yelp is still searching.
They could be lauded for their steady-freddy growth in reviews and their ability to have survived on what has not been an easy nor incredibly profitable path. They could, with effort, establish a rapport with the sector (SMB), they most need for profit.
In fact, Duke Klauck of Ten Thousand Waves recently noted "One interesting thing during the pandemic, Yelp reviewers suddenly became much nicer. Very few negatives and a lot of praise."  
But they would be further ahead by putting their efforts into building a more solid business and not spending as much time sniping at Google and driving the antitrust cart forward.(7)
Thanks to GatherUp by Traject(8) for access to the data and to Duke Klauck of Ten Thousand Waves for permission to use it.
---
(1) - I had a long relationship with Ten Thousand Waves although I currently have none. They reached out to me in 2014 to help them solve a long standing driving direction problem that caused many of their massage and spa clients using Google Maps to be late for their appointments. This misrouting caused huge issues with scheduling and imacted income. In 2015 they started using GatherUp for internal surveys and monitoring. At the start of the pandemic they paused their GatherUp subscription.
(2) - The start date for Google reviews is a little deceivng because in 2018 they nuked all reviews older than 2012 that were created by anonymous buyers. The low number removed does not significantly change the timing of their ascent.
(3) - Initially the spa and hotel were closed and the restaurant switched to take out. The restaurant then added outdoor terrace seating for last summer explaining OpenTable's current review success. The spa, hotel and restaurant have subsequently reopened with some limitations and things are just now starting the return (hopefully) to pre pandemic levels.
(4) Why would Facebook need to "sell" local business pages to consumers? Local Businesses rapidly started paying just for their posts to be seen with a "boost".
(5) - I am waiting to see when Google gets into the restaurant reservation business in direct competiton with OpenTable.🤪 Opps, I guess they aleady are with their
Duplex reservation technology
.
(6) - I didn't agre with the Bork antiturst theory that the only harm that should be considered was consumer harm then, nor do I agree with it now. I am hoping that out of the current crop of anit-trust trials and possible enforcements the antitrust framework will be changed to include harm to other buisnesses and greater oversight of the many anti-competitive acquisitions. In fact this was the logic when Microsoft was determined to have competed unfairly against other businesses and was forced to not bundle a browser or search into Windows. It is ironic that Google directly benefited from that broader, pre-Bork interpretation of antitrust enforcement and now as the hegemon is benefitting from the Bork antitrust view that allows them to leverage their own position vis a vis competitors as long as their is consumer benefit.
(7) - The Google anti-trust agenda does need to be driven forward but I find it hard to rationalize that doing so is Yelp's job when they have so much other work to do to return capital to their shareholders. It appears totally self serving regardless of the actual motiviations.
(8) - While I am no longer full time at GatherUp I still do some consulting on their behalf. And I still love reviews.